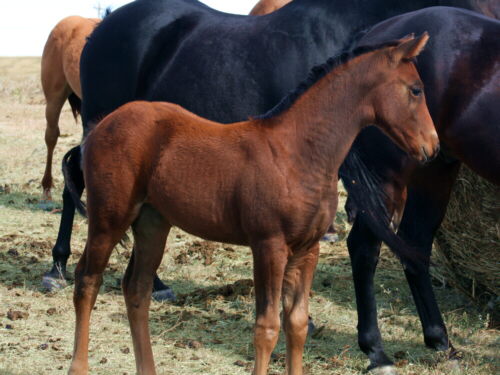 .
This filly came a bit late, but she was worth the wait. She is a beautiful bay foal that will become stout as her dam, and seemingly as friendly too, as she walks up in the pasture and doesn't mind being scratched. She can stay with her dam until at least December. May make a nice Christmas present?
My best bet for a 4H project / kids horse. With mom and dad's disposition she should become as mellow as a lap dog.

She is located south of Rapid City, SD.

sire
Paddys Irish Whiskey
(Peppy San Badger / Doc's Starlight)
Plenty O Paddys Lena
Movin Easy Lena
(Doc O Dynamite)
Plenty Dakota Memory
August 15, 2013
dam
Tall Tailwind
(Mr Tailwind x Skip Shi)
Talls Dakota Memory
Waspy Streak
(Waspy Joe x Joak)